Slide
Try Before You Buy Sewing Machines
We carry a wide selection of Janome and Elna Sewing Machines
Try Before You Buy Sewing Machines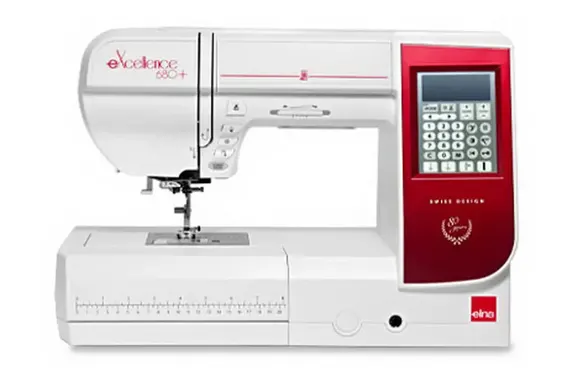 We carry a wide selection of Janome and Elna Sewing Machines
Try Before You Buy Sewing Machines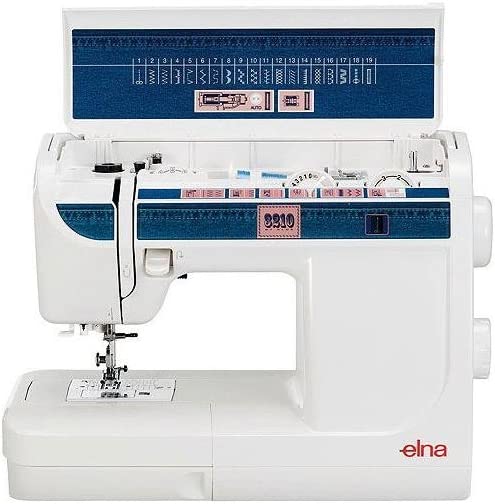 We carry a wide selection of Janome and Elna Sewing Machines
Try Before You Buy Sewing Machines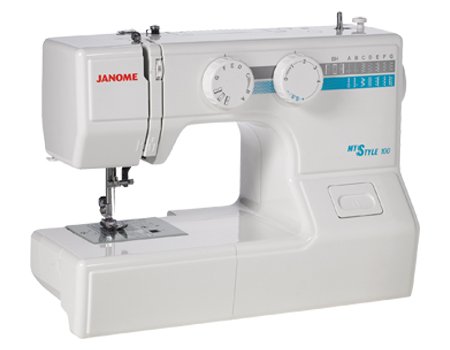 We carry a wide selection of Janome and Elna Sewing Machines

Sewing Machines
We carry a wide selection of Janome and Elna Sewing Machines. See the features of each here on this page. Whether you are a beginner or expert seamstress we are sure to have the right machine for your needs. Janome and Elna are known throughout the industry as being well built, reliable and easy to use machines.
Sewing is always more enjoyable on a new, trouble free machine!
Sewing Machines & Key Features
Advice
Not sure what features you need?
Our staff loves to sew and quilt as much as you do! They will sit down with you and help you choose the perfect machine for your needs.
On Site Service
Need service on your machine?
We clean and service our machines right here in our store. If you ever have a problem, just bring it in and we will make sure you leave happy!
Parts/Supplies
Need a special foot or accessory?
We stock most Janome & Elna feet, bobbins and accessories. No waiting when you want to sew!
Try Before You Buy
Sit down, relax and sew!
Our machines are on display and ready to try. The only way you know you will be happy with your machine is to try it before you buy it!
Key Features
15 stitches
1 four-step buttonhole
Snap on presser feet
5-piece feed dog
Free arm
Drop feed
Auto-declutch bobbin winder
Extra high presser foot lift
Stitch selection dial
Top loading full rotary hook bobbin
Maximum stitch width 5mm
Maximum stitch length 4mm
Standard Accessories
Blind Hem Foot
Bobbin (specialized)
Buttonhole Foot
Needle Set
Seam Ripper
Zig-Zag Foot
Zipper Foot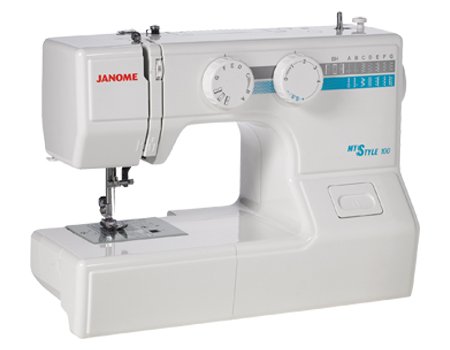 Key Features
With the eXplore 320 and eXplore 340, you'll navigate effortlessly through any project, from minor alterations to major new creations!
22 / 26 stitches
Maximum stitch width: 5 mm
Maximum stitch length: 4 mm
Built-in needle threader
Strong needle penetration on all fabrics
Extra-high presser foot lift
Metric and inch measurements
Drop feed dog
Foot pressure adjustment
Free arm
Technical Features
| | | |
| --- | --- | --- |
| | 320 | 340 |
| Machine size | 420 x 280 x 170mm | 420 x 280 x 170mm |
| Machine weight | 6.3 kg | 6.3 kg |
| Bed type | Free arm/flat bed convertible | Free arm/flat bed convertible |
| Free arm | 150mm – from the needle | 150mm – from the needle |
| Sewing space | 70mm | 70mm |
| Hook | Rotary horizontal & transparent bobbin | Rotary horizontal & transparent bobbin |
| Bobbin winder | Easy declutch | Easy declutch |
| Needle threader | Integrated | Integrated |
| Retractable feed dog | x | x |
| Lighting | LED | LED |
| Thread tension control | Manual | Manual |
| Presser Foot | Snap (clip) on type | Snap (clip) on type |
| Foot pressure adjustment | x | x |
| Extra-high presser foot lift | Manual | Manual |
| Accessory storage | 1–arm | 1–arm |
| Stitch reference chart | On front cover | On front cover |
| Spool pin | Horizontal | Horizontal |
| Carrying handle | x | x |
Function Buttons
| | | |
| --- | --- | --- |
| | 320 | 340 |
| Reverse | Lever | Lever |
Sewing
| | | |
| --- | --- | --- |
| | 320 | 340 |
| Number of stitches | 22 | 26 |
| Buttonholes | Four-step | One-step |
| Maximum stitch width | 5mm | 5mm |
| Maximum stitch length | 4mm | 4mm |
| Maximum sewing speed | 820 spm | 820 spm |
| Variable needle positions | from 0 to 5 | from 0 – 5 |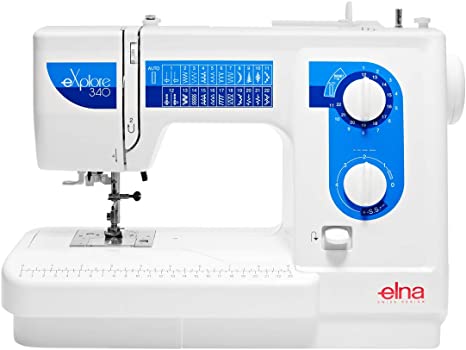 Elna Excellence 550/560/570α
Electronic Sewing Machines
These computerized models have been designed to suit multiple applications and purposes. A variety of smart features that increase your sewing efficiency can easily be operated with a button. The highest version includes an automatic thread cutter and memory, as well as an alphabet.
50 / 100 / 380 stitches (including alphabet)
LCD screen
LED lighting
Built-in needle threader
Direct-access function buttons
Automatic lock stitch
Automatic thread cutter (560/570α)
Memory function (570α)
Extension table included
7 presser feet included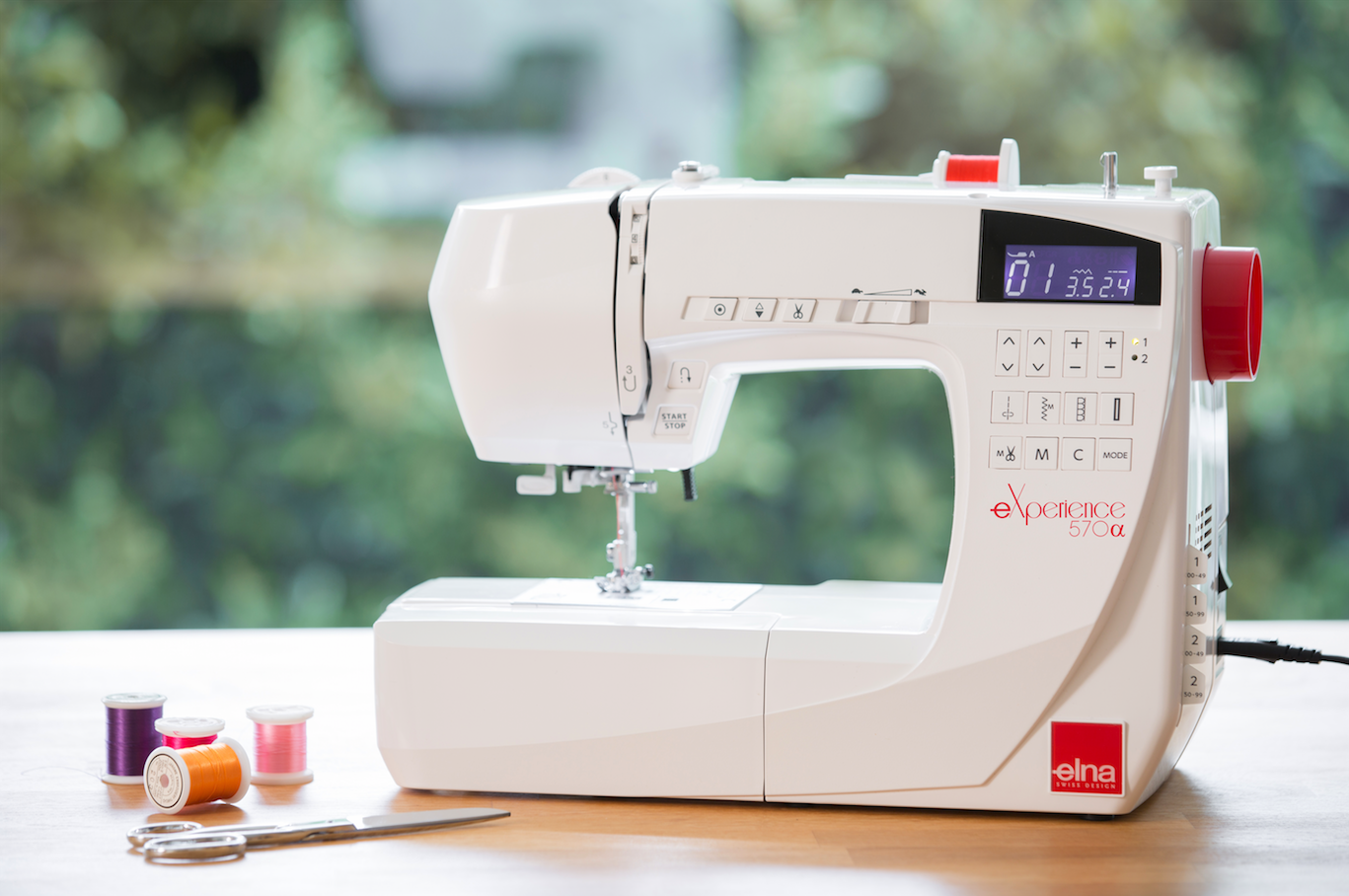 Computerized Sewing Machine
You will enjoy at every sewing time impressive stability and comfort with the eXcellence 680+. Designed to follow every user's movements, this robust model is efficient and can meet any kind of demands.
170 stitches incl. 10 buttonholes
Built-in Superior needle threader
Large sewing space 120 x 210 mm
Maximum sewing speed adjustable up to 1'000 spm
Free arm
Automatic and programmable thread cutter
Presser foot pressure adjustment
Easy and guided bobbin threader with built-in thread cutter
Bobbin thread and upper thread sensors
Extra-wide table
10 unit-kit Easy bobbins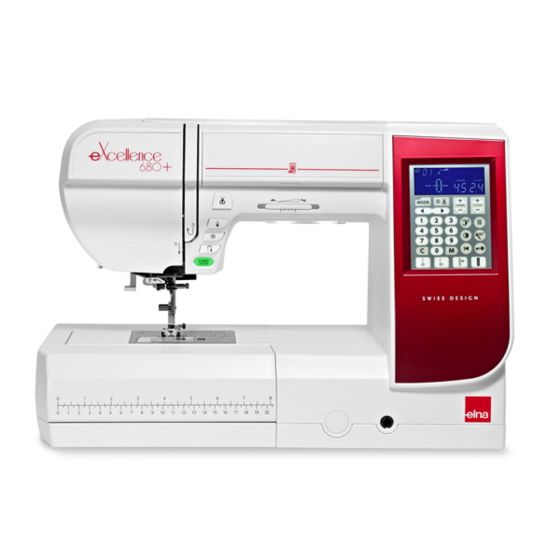 Elna 3210 Designed for Jeans
Technical Features
Stitch selection dispay
Reverse lever
Built-in needle threader
Strong needle penetration on all fabrics
Rotary horizontal hook with transparent bobbin cover
Automatic declutch bobbin winder
Built-in thread cutter
Drop feed dog
Adjustable foot pressure
Extra presser foot lift
Clip-on presser feet
Metric / inch measurements on needle plate and bobbin cover plate
Free arm
Carrying handle
Jeans bag / dust cover
Stitch Features
Number of stitches: 19 including 1 buttonhole
Maximum stitch wifth 6.5 mm
Maximum stitch length 4 mm
Needle positions variable
Fine tuning adjustment
Accessories
2 accessory storage areas including standard metal foot A, blind hem guide G, hemmer foot D, overlock foot C, satin stitch foot F, automatic buttonhole foot R, zipper foot E, buttonhole foot B, bobbins, needles, quilt guide L, additional spool pin, spool pin felt, large and small spool holders, lint brush, screwdriver, seam ripper.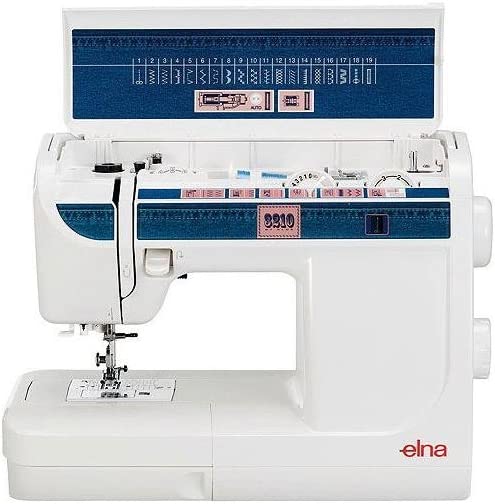 Janome Memory Craft 6700P
Key Features
200 Stitches PLUS 5 Alphabets
One-Push Needle Plate Conversion with 3 Included Plates
6 LEDs in 3 Locations
Large Extension Table Included
Maximum Sewing Speed: 1,200 SPM
Detachable AcuFeed Flex Layered Fabric Feeding System
Memorized Needle Up/Down
Detachable Stitch Chart
Superior Needle Threader
10″ All-Metal Seamless Flatbed
Professional HP Needle Plate and Foot
17 included accessory feet
Standard Accessories
1/4″ Seam Foot O, Top Loading, 9mm Stitch Width Models
Button Sewing Foot
Dust Cover
Free Motion Quilting Holder (QB-S)
HP Foot
Overedge Foot M
Seam Ripper
Zipper Foot E
AcuFeed Flex™ Dual Feed Holder with AD Foot
Buttonhole Stabilizer Plate
Extra Large Foot Controller
Free Motion Quilting Open Toe Foot
HP Needle Plate
Rolled Hem Foot 2mm
Straight Stitch Needle Plate
Automatic Buttonhole Foot R
Blind Hem Foot G
Darning Foot
Free Motion Quilting Closed Toe Foot
Free Motion Quilting Zig-Zag Foot
Open Toe Satin Stitch Foot
Satin Stitch Foot: 9mm Models
Zig-Zag Foot
Optional Accessories
1/4 Inch Ruler Foot [high shank]
1/4″ Seam Foot for AcuFeed Flex™ (Twin)
1/4″ Seam Foot w/o Guide, Fits Top Load, 9mm Stitch Width Models
3 Way Cording Foot, Top Load, 9mm Stitch Width, High Shank6 Point Crosshair Ruler8″ & 11″ FM Quilting Hoop Set
10 Pack Bobbins
AcuFeed Flex™ Holder and Foot (Single)
AcuFeed Zipper Foot ED (Single)
AcuFeed HP2 Foot
AcuFeed Open Toe Foot
AcuFeed Straight Stitch Foot
AcuView Magnifier Holder with 20x Lens20x 40x 60x Lenses
Applique Foot: 9mm Max Stitch Models
Beading Foot (Narrow Groove): 9mm Max stitch width models
Beading Foot (Wide Groove):9mm Max stitch width models
Bi-Level Foot 9mm
Binder Foot
Blue Tip Needles
Bobbin (Standard)
Border Guide Foot
Buttonhole Foot (transparent)
Buttonhole Foot with Stabilizer
Buttonhole Stabilizer Plate
Circular Sewing Attachment
Clear View 1/4 Seam Foot 9mm
Clear View Quilting Foot and Guide Set
Concealed Zipper Foot
Convertible Freemotion Quilting Foot Set
Ditch quilting FootDitch Quilting Foot for AcuFeed Flex™Edge Guide Foot
Extra Large Buttonhole Foot and Stabilizer Plate for 9mm
FM Quilting PaddlesFree Motion Couching FootGathering Foot
HD Roller FootHorizontal Spool HolderInsert Plate H
Janome Square Bobbin Saver
JASOFTCASEJA-SQJA-SQE
Long Quilting Guide Bar SetNeedle (universal)
Needle Set
Needle Threader
NeedlesNeedlesNeedles Ball Point Size #11
Needles Ball Point Size #14
No Slip Control Pad
Open Toe Darning Foot 9mm
Overcast Foot M: Top Load, 9mm
Palm Quilting Paddles
Pintucking Foot Narrow
Pintucking Foot Wide
Piping Foot 9mm Models
Piping Foot (Narrow) for 9mm Models
Pretty Grips
Purple Tip Needle
Quilt Binder Set
Red Tip needle
Remote Thread Cutter Switch
Ribbon / Sequin Foot
Ribbon Sewing Guide
Rolled Hem Foot 4mm
Rolled Hem Foot 6mm
Ruffler
Ruler Foot and Frame Quilting Foot Set
Ruler Work Kit High Shank
Sew Comfortable Lumbar Support
Sew Comfortable Seat Cushion
Simple Circle – 2″
Sliding Guide Foot 9mm
Spin-e fex 10-5.5″
Spin-e fex 10-7.5″
Spin-e fex 12-5.5″
Spin-e fex 12-7.5″
Straight Stitch Foot
Taping Guide Foot 9mm
Triangle Template Set
Triangle Template Set (EVEN)
UltraGlide Foot
Ultraglide needle plate and Foot set
Universal Sewing Table
Elna – 264 Mechanical Overlock Machine
Features
Compact and comfortable, the Elna 264 offers essential overlock features to complete your creative ideas, while delivering flawless results. You can carry out all the steps of your sewing projects, by cutting, sewing together and overstitching in one operation.
7 stitch programs
Instant rolled hem device
Color coded thread guides
LED lighting
Adjustable cutting width from 3.1 to 7.3 mm
Adjustable stitch length from 1 to 4 mm
Adjustable differential feed from 0.5 to 2.25
Maximum sewing speed adjustable up to 1'300 spm